Every homeowner can benefit from pressure washing services. A pressure washing business is a great idea for a start-up.
The start-up costs are low compared to other businesses, but the potential profit margin is high. Pressure washing requires some skill, but the process is easy to learn.
There's more to starting a pressure washing business than buying the necessary equipment. If you're hoping to start this type of business, we have some pressure washing business tips for you to consider.
Is Pressure Washing a Good Business?
Pressure washing is a booming industry. The client base is endless, and you can provide a valuable service for homeowners and business owners.
The global pressure washing market has a market share of 1.8 billion, and the trend is expected to continue. There's tremendous potential for growth.
You can specialize in cleaning structures, driveways, decks and patios, windows, or even chimneys. Once you develop a good working relationship with clients, they'll likely contact you again for cleaning services.
Making money with a start-up pressure washing business is very possible. With low start-up costs and favorable pricing, you can earn $40,000 to $50,000 a year early on and over $100,000 with time and experience.
There's no need to earn a degree or train excessively. You do need basic management skills, pressure washing skills, and the proper tools to get your business moving forward.
Necessary Investment to Start Your Business
One of the biggest perks of starting this type of business is the minimal upfront costs. With around $10,000, you can start a small-scale pressure washing business.
To begin, you'll need a pressure washer, nozzles, pumps, chemicals, engines, surface cleaners, and other necessities. You'll need at least $2,000 for basic equipment and up to $25,000, depending on whether you decide to rent or own your equipment.
You'll need a reliable vehicle to transport your gear. This can run around $450 a month, plus money for gas and regular maintenance.
You should include your business name and contact information on the vehicle for promotion purposes.
Choose Your Location
Unless you're planning to run your business from home, you'll need an office or retail space for your pressure washing business. This can run anywhere from $500 to $2,500 a month, depending on the location and size of the space.
Paying for a business phone is a necessary expense that will be at least $20 or more per month. You'll need insurance, licenses, and permits as well.
Approximate costs are around $500 upfront and $60 per month.
Marketing Your Pressure Washing Services
You can't make money if people in your area don't know you exist. Marketing your business is key to success.
You can start small. Consider spending $200 to $400 a month on marketing efforts. Start with a good website that outlines your services and provides a way for potential customers to ask questions and leave their contact information.
Consider using flyers and social media as you begin marketing your services. Your best marketing for a pressure washing business is word of mouth.
As you provide great service, your customers will help spread the word about your business.
Pressure Wash Like a Professional
A large pressure washer isn't easy to handle. You must have plenty of practice to operate one safely and efficiently.
The water spray from a commercial pressure washer is intense. It's powerful and can clean any surface. But one wrong blast can be dangerous and can knock someone down or shatter glass.
Practice honing your skills. No one wants to pay for amateur services, so make sure you're comfortable with the process before taking on customers.
Create a Strong Business Plan
Any successful business starts with a solid business plan. This will help you map out the details of your pressure washing business.
Working through a business plan helps you discover unknowns and maximize your opportunities. Pro Tip: Having a business plan in place makes it easier for you to obtain a loan or business support. A well-crafted plan could help you secure an investor or get a partner on board.
Your business plan should include the following:
Company description
Executive summary
Product or service description
Market research
Marketing strategy
Management and operational plans
Financial goals or projections
As you prepare your business plan, you'll need to determine the scope of your services. When you have this in mind, you can set your prices.
Consider what you want to do. Do you want to offer pressure washing only? Do you want to offer other services like window washing, drain cleaning, or general maintenance?
As you set your prices, check out similar services in your local area. Your prices should be competitive. A rough guide for pressure washing prices may include:
Exterior siding: $100-$300
Deck or patio: $250-$500
Driveways: $80-$200
Vehicle cleaning: $50-$200
Customers typically spend around $300 on pressure washing services. The average rate is 15 to 75 cents per square foot. You can vary your rates depending on the scope of the project.
Name Your Business
Choose a relevant name for your business that's easy to pronounce. It's a good idea to choose a name with a matching domain.
You want a business name that will stay with your customer. The goal is for them to know your brand, remember the name, and return to it time after time.
Register Your Business
If you plan to run as a sole proprietor, you don't have to register your business. However, registering your business allows for certain legal and tax benefits and personal liability protection.
You have five options:
Sole proprietorship
Partnership
Limited Liability Company (LLC)
C corporation
S corporation
Each option has its pros and cons. You need to understand your options fully before making a decision. You can hire an attorney to help you understand your options and the legalities involved.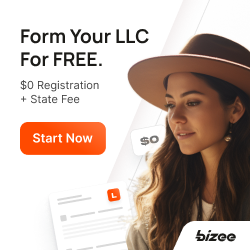 Understand the Legal Formalities
Before you get started, it's important to understand all the legal requirements you'll face as a business owner. This includes having all the correct licenses, permits, and insurance.
You'll need many documents to run a legitimate pressure washing business, including:
Business license
Contractor permit
Environmental permit
Employer Identification Number (EIN)
Equipment insurance
Workers' compensation
Liability insurance
There's a lot to consider. You can enlist the help of a reputable attorney and an insurance agent to help you get started.
Opening a Business Bank Account
Pro Tip: You don't want to mix your personal assets with your business assets. Opening a business bank account is an important step.
This simplifies the process of keeping track of business expenses and profits. Another advantage is that a separate business bank account makes tax filing and accounting much easier.
Opting for a business credit card also helps you separate personal and business expenses. Plus, it helps you develop your company's credit.
If the IRS comes calling, the process will be much easier with clear business expenses at hand.
You need specific documentation to open a business bank account. This includes business formation documents, proof of business address, and an EIN.
Consider Your Website
Having a dynamic website is one of the best ways to attract customers. It allows you to advertise your services and impress prospective customers.
It provides a way for customers to contact you, ask questions, and book your services. Pro Tip: Showcase what sets you apart from your competitors.
You can hire a professional web developer to help you create your website. Or you can create your website using online website builder tools.
Use Social Media to Your Advantage
Create business accounts on various social media platforms. This is a fantastic and economical way to reach people and promote your services.
Pro Tip: Facebook is a good place to start. Facebook users are older and are likely to own property. Post photos of your work, customer testimonials, and special offers to gain exposure.
Ask your loyal customers to share your posts or post a favorable review about your business. Create accounts on other platforms too, including Instagram, LinkedIn, Google, and others.
Know That Offline Marketing Is Still Relevant
You want a strong online presence for your business. But don't dismiss the power of offline marketing.
The key is getting the word out about your business. Get your friends, family, and customers involved. Ask them to spread the word about your services.
Ask for recommendations and references. Pro Tip: Flyers, vehicle wraps, and door-to-door advertising all work for a pressure washing business.
All of these efforts are valuable and can help grow your client base.
As You Grow
You may start as a one-person show, but as your business grows, you'll need to expand to increase profits. As your customer base increases, you'll want to hire additional staff to keep up with the demand for your services.
To keep your business moving forward, you may need to purchase more equipment, ramp up sales, and focus on marketing that gets results.
Start a Pressure Washing Business
Starting a new business takes a lot of heart and determination. If you're thinking of starting a pressure washing business, it could become a very successful venture.
Joining a start-up forum is a great way to access helpful resources and connect with like-minded entrepreneurs. We welcome you to join The Better Small Business Forum today.